Well well well.
Single Speed Cyclocross World Championships went down last weekend in the City of Angles.  As you may remember- after 2011 in San Francisco, much of Seattle (having hosted the event in 2010) was unhappy with the idea of it being awarded to a locale so nearby (and promoted by the same guy.)  Then to make it even stickier- after awarding it to one city- the promoter decided to to take it just down the road, 350 miles away.
I didn't attend- and instead helped work on Philadelphia's plan to take the race for 2013.  We had shirts available for Philly 2013 before the slackers in LA had them for the race that they were doing, which was only days away (PS- ours look waaay better.)
All the above put aside- I had no doubt that those in attendance, unaware of the turd cannon that had soiled our opinion of the SSCXWC promoter, would have a good time.  I mean- single speed cross, beer, parties- who doesn't like that?  Maybe Mitt Romney and Sarah Palin?
It was difficult on the day of the race to get information on what was going on.  There were a few Twitter pics and things on Instagram- but it wasn't until AFTER the tattoos were given were winners really announced.  The organizers did not want to revisit the upset that happened last year…
So there were the unofficial winners, Adam Craig and Mical Dyck:
And your official winners, Mical Dyck and Adam Craig- as they received the tattoos to accompany the winners golden speedos: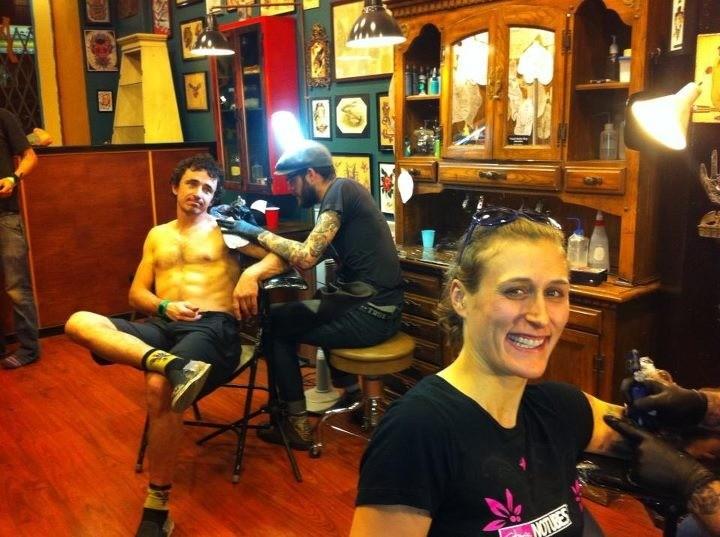 Congrats to both the mens and womens SSCXWChampions.  And as for where it's going to be next year?  Here's a hint:
We'll see you in Philly for 2013–
Thanks to Bikemag.com for some of the photos- see more of their set HERE
And because we love Craig Etheridge so much, and now we can hear him in our homes even when he's out winning races- there is the only recap you need:  The Hot Laps with Craig SSCXWC edition: